Sea Bass and Healthy Chips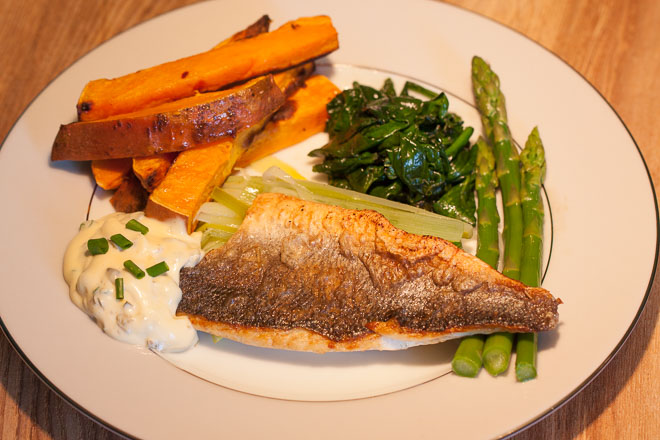 A simple yet delicious homemade meal!
Ingredients:
Sea Bass Fillets 180g
Sweet Potato 2 – scrubbed & cut into chips
Asparagus 1 bunch
Leeks 2 – shredded lengthways they cook so quickly
Spinach (3 handfuls)
Hollandaise Sauce 100g – or homemade!
Chopped chives & capers – about a dessertspoon of each
Butter & Oil
(Serves 2)
Method
Heat the oven to 200 C
Season the skin side of the fish with salt & pepper. Heat some butter & a little oil in a frying pan. Place the fillets skin side down & cook on a med-high heat for 10 minutes to crispen the skin. Remove the pan from the heat & turn the fish over. Leave the fillets to rest in the pan for 2-3 minutes. Ensure the fish is cooked through. Fish is generally very quick & easy to cook.
Cook the spinach in a little butter until it's wilted in the pan – takes literally seconds
Steam or simmer the leeks – approximately 5 minutes
Cook the asparagus in boiling water for 7 minutes. Drain & serve.
For the Sweet Potato Chips – There's no need to peel them as a lot of the goodness is in the skin. Cut the potatoes into chunky wedges, pop in a food bag with a little olive oil, salt & pepper. Toss to coat them. Tip these out of the bag into a roasting pan & place in a preheated oven for approximately 25 minutes until lightly browned.
To make our simple version of tartare sauce with a difference, mix the herbs & hollandaise.
Plate up & enjoy!
Shop for your ingredients
No Results Found
The page you requested could not be found. Try refining your search, or use the navigation above to locate the post.